Driving home after the BP Bass elec on sunday , aside from my itch to catch bass not being scratched ( donutted), I started sneezing and coughing the whole 3 hours back to bundy. The dreaded flu had got hold of me. Spending all of monday in bed had me stir crazy.
Slept in this morn then decided that I had recovered enough to do a little bass fishing. As I had not unpacked the boat and car from the weekend due to the flu, all I had to do was jump in and drive the 29km to isis balancing storage.
I spent the first hour crankbaiting the edges for 2 hits no hookups. While changing spots a huge school of bass came up on the sounder 9 m of water and active bass were from 4 m deep to the bottom. I grabbed a rod with an ecogear vx 35 and nailed 3 bass in quick succession then for a change I threw a plastic (hazedong) and nailed another 4 including this 42cm model.
The school seemed to scatter after this and I could only find 1-2 bass swimming about but had trouble getting bites. I headed up the middle arm and continued my crankbaiting for another hour. It was about this time I was heading back to the ramp when I decided to see what the school I had hit earlier was doing.
It seemed that while it was alot smaller , there was a school of bass back on the same spot. I took a pic of the lowrance to show what the school looked like.
I rigged up with a smoke/yellow core slider and slow rolled it back to the boat - well that was the idea anyway. First couple of winds I got bites then my rod loaded up and started screeming off line ,after a few runs the hook pulled , I remember thinking damm that was a good bass. I let the plastic sink back down to the bottom the hopped it - clunk - I was on again. After a spirited fight I netted a really good bass.
I started fishing isis in 2004 and every year I have caught a fish over 50cm there. I nerviously put him on the ruler - 50.5cm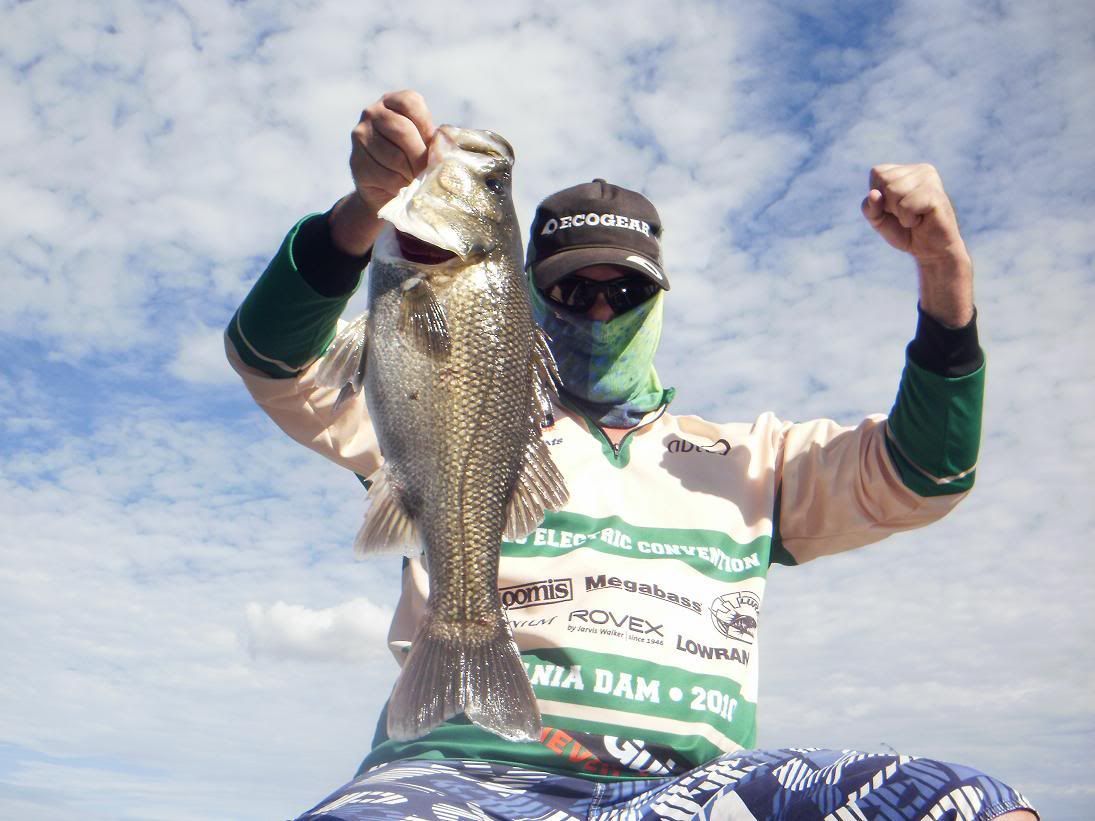 He was a really fat bass as well. I didnt have any scales but if he wasnt over 2kg he was really close.
That was enough for me - I let him swim away after a pic and went home - flu cured.
Chris Horne
P.S. sorry about the pose in the last pic - I was really pumped and yelling + read too many megabass catalogues lately