The mighty Mangrove Jack undoubtedly one of the most sort after estuary species by fisherman around the country. Now it was my turn to try and land one and it was off to the magnificent Baffle creek to see what all the fuss is with this fish. "15lb will be plenty" I assured my brother "there the same size as a large bream" a decision that left me heart broken and the fishing gods with a large donation of tackle by the end of the trip.
October 25 day 1, arriving at Baffle creek our camp was set up quick and my brother and I were on the water in a flash. The plan was to give a few of the flats a quick flick to see if a decent flattie or two could be nailed. Coming up with just the one 35cm Grunter we decided to head over to a rocky shoreline about 200m long 4- 6m of water in depth and a whole lot of snags on the bottom to build the confidence.
Still with a 1000 size reel in hand loaded with 4lb main and 6lb leader. I sent a 3-inch gulp shrimp to the bottom; I should have said my goodbyes to it because what happen next kicked the heartbeats into over drive. 30m into the drift my arm was sent down wards by an almighty thump, "IM ON" I yelled as I ripped the rod up to set the hook. ZZZZZZZZZZZZZZZZZZZZZZ 4lb Fireline screamed of the reel "grab the net you idiot quick" I yelled at my brother. As he reached down for the net all of a sudden the sound of 4lb line screaming off my reel was joined by the sound of 6lb screaming of my brothers reel. "This is BULL S#%T, double hook up," I said as mine took one last lunge for his snag and busted me off. Fortunately my brother landed his, around 40cm's of mangrove jack not a bad effort on 6lb main 6lb leader.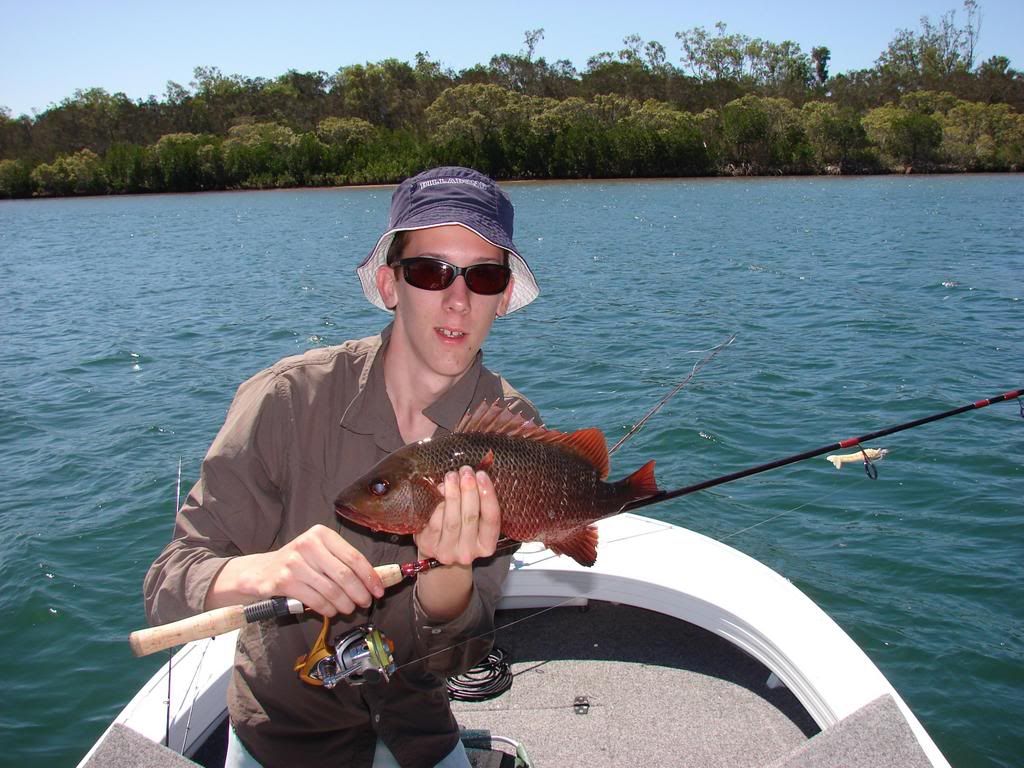 The next day the 15lb with 20lb leader came out no more mucking around I thought. Still no jack on my scoreboard I was very anxious to land the next one.
Further up stream another rocky shoreline was spotted this time with 6-9m of water dropping off only 6 feet away from the bank running a length of a round 300m with bait all along it. First drift again half way along baffle creeks underwater freight train express hit my lure and line screamed for about 3 seconds before coming to a halt. "Are you kidding me that was 15lb line" 3 more drifts my brother got another Jack around 30 cm and my bust off tally skyrocketed to 7, not a happy camper.
Next day it was time to explore Bottle creek (a smaller creek branching off Baffle). 15 to 20 minutes up the creek the scenery took a major change. 2-meter high banks dropping straight into the water where a graveyard of trees rested semi submersed in the water. First cast my brother got absolutely blown out of the water. "Hahaha I yelled" take that. I flicked my lure into the next snag, when all of a sudden WACK ZZZZZZZZZZZZZZZZZ, "no no no no please" as it screamed off to a nasty looking tree, this time I turned him and after a bit of a tussle were I could feel my line running across the tree I finally pulled him out and into the net. "YEWWWWWWWWWW" my first ever jack and what a beauty. No monster but boy was I happy. The little jack was later released to fight another day.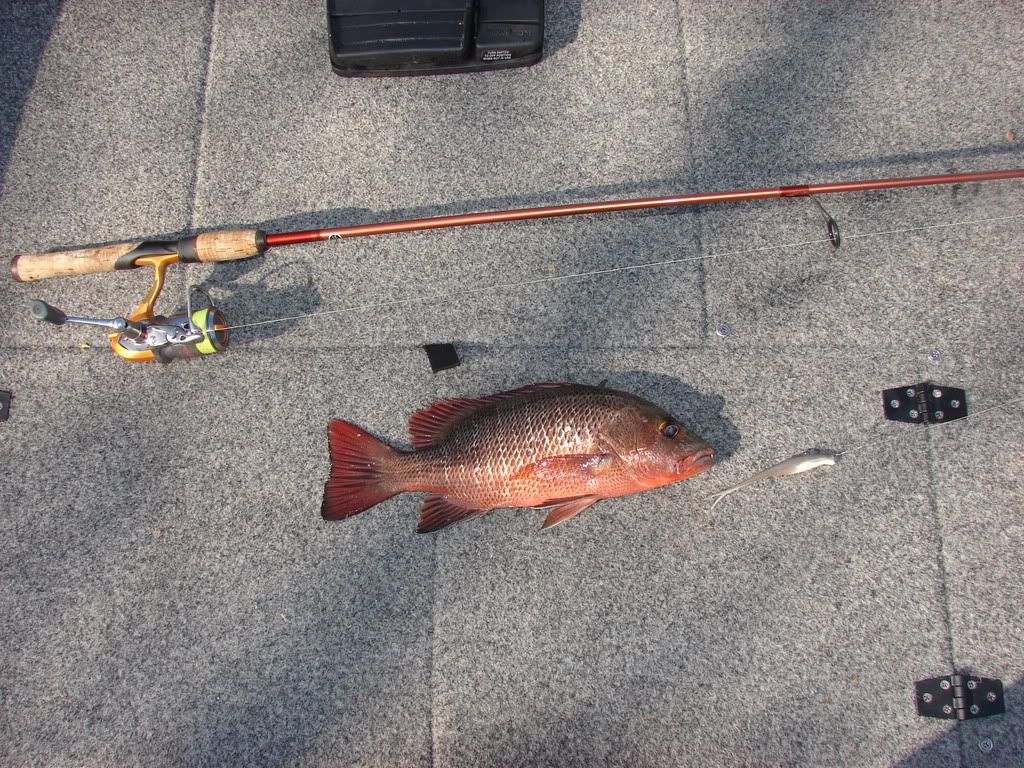 15 minutes later and confidence still running threw my veins my lure got smashed right in tight to a snag, still in full concentration mode I got his head turned rather quick and a nice 40cm jack surfaced. YEWWWW! This one was kept for dinner and after a 1hr long afternoon session 4 jacks were landed between the 2 of us and it was time to head back to camp.
Although our target fish was the mangrove jack the variety of other species caught was unreal. Cod attacking lures not much smaller then them selves, Mosses perch, flathead, grunter, bream small trevally even 2 nasty looking stonefish on soft plastics. Our favorite lures used were defiantly the gulp soft plastics, 3inch shrimp in a variety of colours; also a stand out was the 5-inch jerk shad in smelt. Techniques varied from hops along the bottom to short sharp twitches around the fallen trees Water temps were around 23- 27 degrees depending on the tide and how far up the creeks we were. A depth from 3 to 9 meters was where jacks were landed. We caught them in the morning and afternoon and on both high and low tides but the best session was mid after noon and a couple of hours into an incoming tide.
All in all the trip was defiantly a success in my books, no monster 50cm specimens but what we caught and the variety I'm sure most anglers would be happy. I left baffle creek with greater knowledge and appreciation of a fish that can be compared to someone putting a 300hp outboard on the back of a 3-meter tinny! Also why 30lb plus line is no over kill at all.