Living up at Bundaberg it can be hard deciding what to chase sometimes. When Josh, who had just moved here, asked me about chasing bass we decided to head to Lake Gregory.
The plan was for me to show him how to catch Lake Gregory bass but as we all know fishing doesn't always go to plan.
When we got to Lake Gregory at about 5.15am I started to throw a Team Daiwa lipless crankbait in ayu, I lure I have got a few on in the past.
Josh started throwing around a buzzbait and quickly got a few hit on the surface and then got a rat.
Every 10 min or so Josh would get a hit and then I would change lures and eventually had tried TD crankbait, Jackalls , various spinnerbaits and poppers. Josh kept telling me to tie on one of his buzzbaits but I was determined to catch something on my lures.
After Josh's third fish with about twice as many hits, I finally decided to swallow my pride and tie on a buzzbait.
After 30 min of working the buzzbait I got smashed way too far from the boat and the bass got me in the weed and pulled the hooks. By this stage I was just happy to have some action.
Not long after this Josh hooked up and after I got his 44.5cm bass in the net I picked up my rod and as soon as my buzzbait landed it was smashed and I hooked up and landed a 46.5cm bass.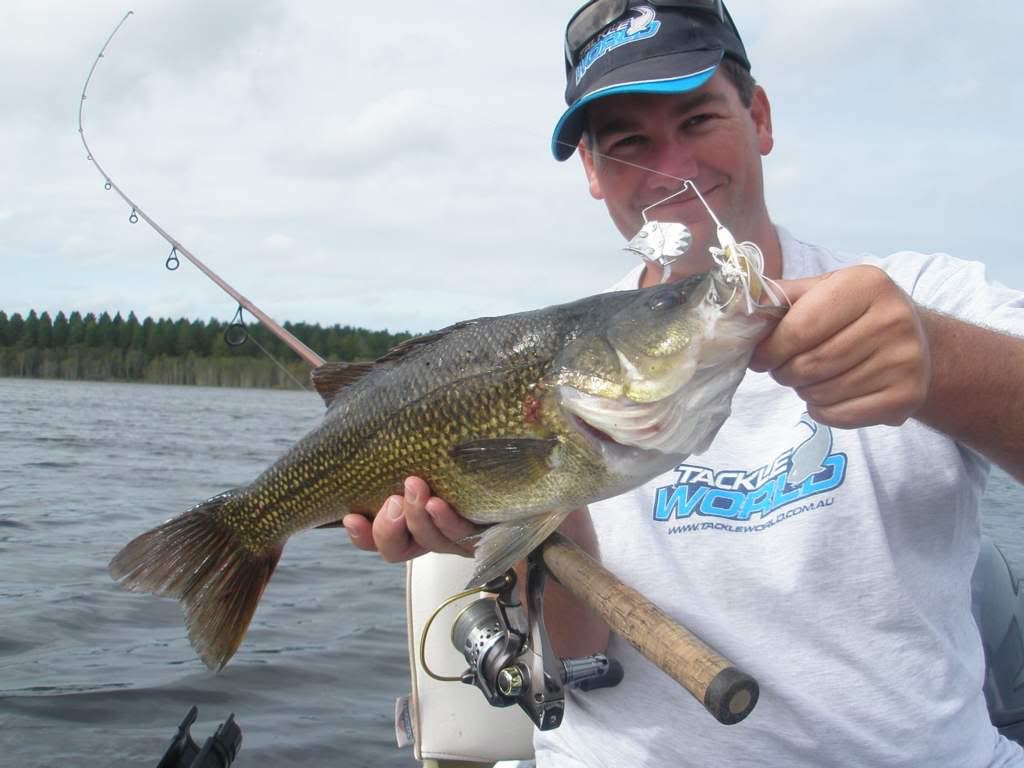 This surface fishing was so good that the next morning I was back at lake Gregory at 5.30am even though I had to be at work by 8am.
This time I started with buzzbaits and after 20 min I had landed a new pb for Lake Gregory a 49.5cm Bass.
This bass went 1.53kg. After telling Josh about this he went back the next morning a ended up catching 5 fish the biggest was 50cm.
Got me by 5mm - ha.
What started out as a trip where I was going to show Josh around ended up as a lesson for me.
All bass caught were released and we used strike king tri-wing buzzbaits as well as tiemco buzzbaits.
Catch ya
Chriso