Had a mate, Ben Pilch, come up from nsw who wanted to do some fishing - he only recently started bass fishing and his pb was 30 to the fork.
I told him if he came up we could improve on that , so we spent a few mornings fishing isis.
1st morning he gets a 34cm on surface using a buzzbait.
2nd morning we get a few but the big ones went my way.
3rd morning he gets a 41cm on a ecogear ck 50.
He is stoked to get this fish and an hour later without any hits we are talking and as he says it is a bit slow his rod is almost ripped from his hands and line starts to peel out at an alarming rate. While I am hooting and hollering he starts to get back some line. After coming to the boat a few times and then going for another run , finally i manage to net his fish - 51cm to the fork bass - truly a trophy fish. It pulled the scales down to 1.94 kg. What makes it extra special is that he caught the fish on a spinnerbait that he had made himself.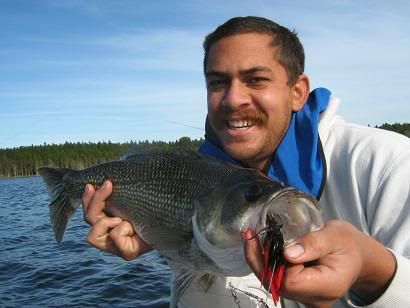 I think it will be a while till he gets a new pb.
Had another session at isis with Josh Carpenter and we ended up with about 15 bass for the morning, Josh outfished me 2-1. His first two were the biggest and he ended up with 2 for 3.36kg and I had 2 for 2.27kg. Cant wait for the next isis electric, especially after I donutted the last one.
P.S. we practise catch and release somewhere in isis the big fella is waiting.........
Chris Horne