I have been fishing isis balancing storage quite alot, but wed 4/6/08 in a bit over three hours with josh we landed 13 bass each on blades and plastics mainly. I managed to break the 50cm mark getting a 51cm , the other fish in the photo below went 43cm , the pair weighed 2.9kg neat.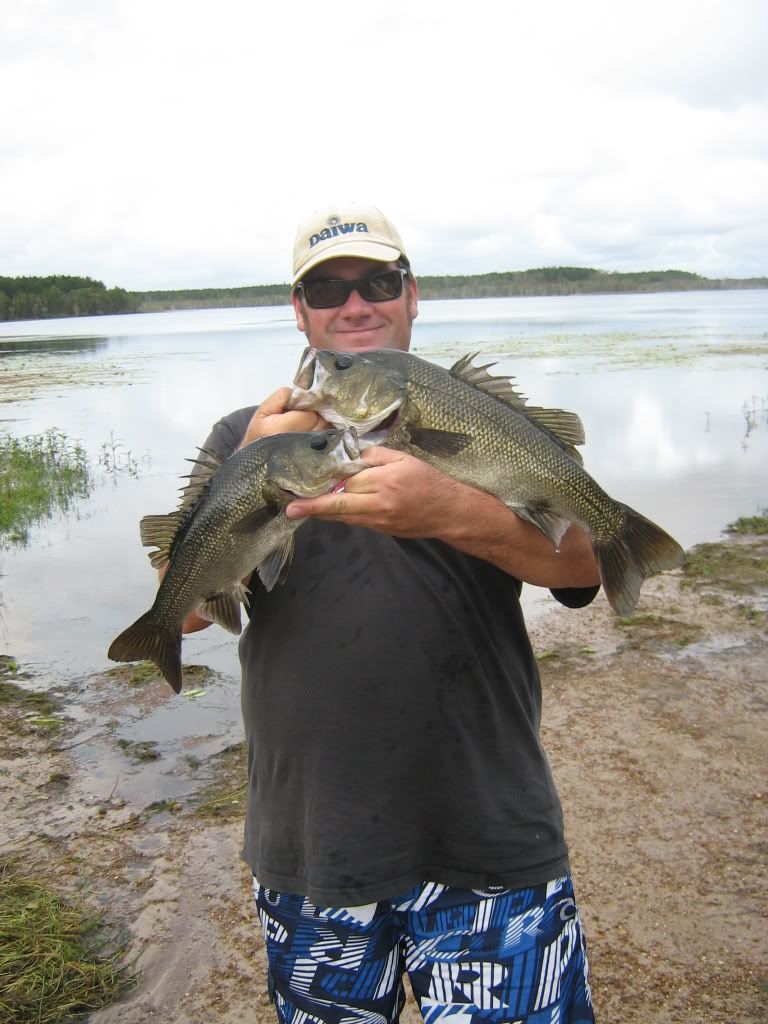 I have been to Monduran about 8 times trying to get a barra but each time it lived up to its nickname "Lake Misery". So when Josh ask if I wanted to chase some barra for a change I was keen as. So we headed up to monduran thursday and after stopping in at foxy's for some plastics and info we hit the water at about 9. By 3 we had cast our arms off and only experience a few swirls behind our lures. We were talking about leaving soon when I changed to a 130mm slick rig in drop bear colour.
I cast to the bank and had only retreived it a few feet when there was a boil right behind the lure, I excitedly told josh who saw it as well then looked back to see a boil right behind his lure as well. I slow rolled it back to the boat for no result and then cast out again. I was only about 6 foot off the bank when I got a hit - I told josh as it was a hit and then nothing- I though I had missed it. I watched as my braid suddenly started moving rapidly toward the boat, the barra had taken my plastic and run straight toward the boat, I frantically wound line in and as it straightened I set the hook. Next thing line started leaving my Daiwa Saltist HRF Baitcaster at an alarming rate and the barra came out of the water a bit trying to shake the plastic , somewhere in the back of my mind I remembered reading about keeping the rod tip low to try to stop them jumping. I put the rod tip low but despite this it still jumped as we were only in 4-6 feet of water. We chased it with the electric as I only had 40lb leader on and josh thought that it might not hold up. I wish he had not said that during the middle of the fight- made me nervous. After a couple more runs josh expertly netted my first barra. It went 102cm - cracked the metre with my first barra. Still cant wipe the smile off my face. Ok I have dribbled enough here is the picture.