I managed to sneak away for a quick trip to Borumba this morning. High on my list was to land a toga as I had failed to land one on our last trip to cania.
Like all good fishing trips it started at 2am and saw me meet Josh at the borumba boat ramp at 5am. We quickly loaded our gear, as usual more lures than most small tackle shops. It did not take us long to get to our first spot and I started working a brown/orange spinnerbait and casting it tight to some lantana I finally landed my first toga in five minutes flat. At 46cm it was not huge but I was glad to have got one. Josh swapped trying several outfits but after I landed my 4th toga he switched to a spinnerbait as well and quickly nailed a couple of toga. I wanted a change and swapped to a atomic crank to try to tempt a bass - casting to a weedbed, a couple of twitches and I was on and got dragged into a snag, keeping steady pressure on the fish ( as much as my 8lb leader would let me) the fish swam out and I netted my biggest toga so far 59cm.
So now one of my favourite bass lures is my fav toga lure-ha.
We then worked a bank for about an hour and both ended up with a 38.5 cm fork length bass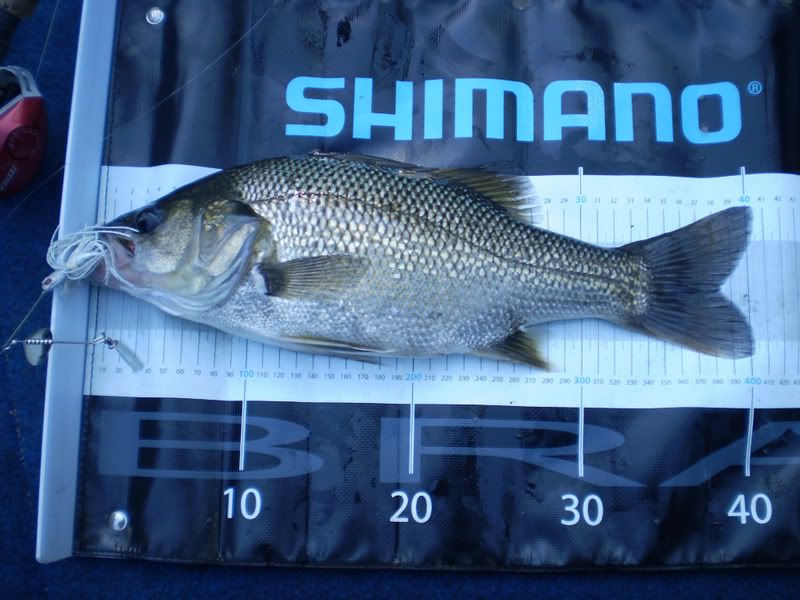 Josh also landed a nice yellowbelly. Will have to get photo off his camera to put up.
I was happy just to get a toga but the bass and yellowbelly and toga upgrades made the trip awesome.
We were out of the water by 11 ish and drove the 2.5 hours home with a big grin.