Well it's been a while since I originally played around with the CCCLD and it wasn't till I felt the rod again in the form of the Blank that was a prize in this years Championships that I decided to get a new one for my own collection.
Overall rod length is 13'6" plus reducer allowing for a 14'6" plus overall length if prefered by the angler. Rod weight excluding reducer is 750 grams with a set of Fuji "K' guides and adjustable reel seat.
Bindings are black overbind with blue underbind on the lower two stripper guides , tip section guides are simply overbound. Overall appearance is very pleasing to the eye and the rod feels well balanced for this old bloke.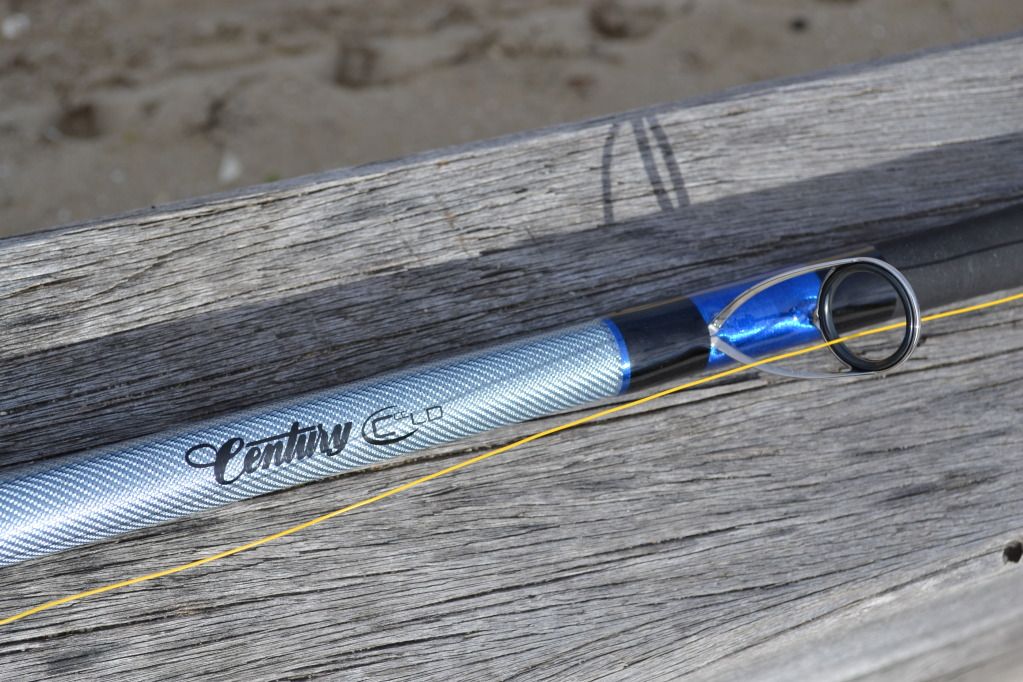 (
Butt section showing overbound stripper guides
)
As I haven't been feeling the best I could only manage a very short stint down on the beach during my lunch break so I don't have any video footage to show of the rod at this point though I will go over some of the points that i like to check out on the rods that I use. As the rod is designed for a multiplier I was wanting to ensure that the stripper guide was set to allow an unrestricted flow of line from the reel. the photo below shows the line position after a cast that has the line load reasonably low on the spool.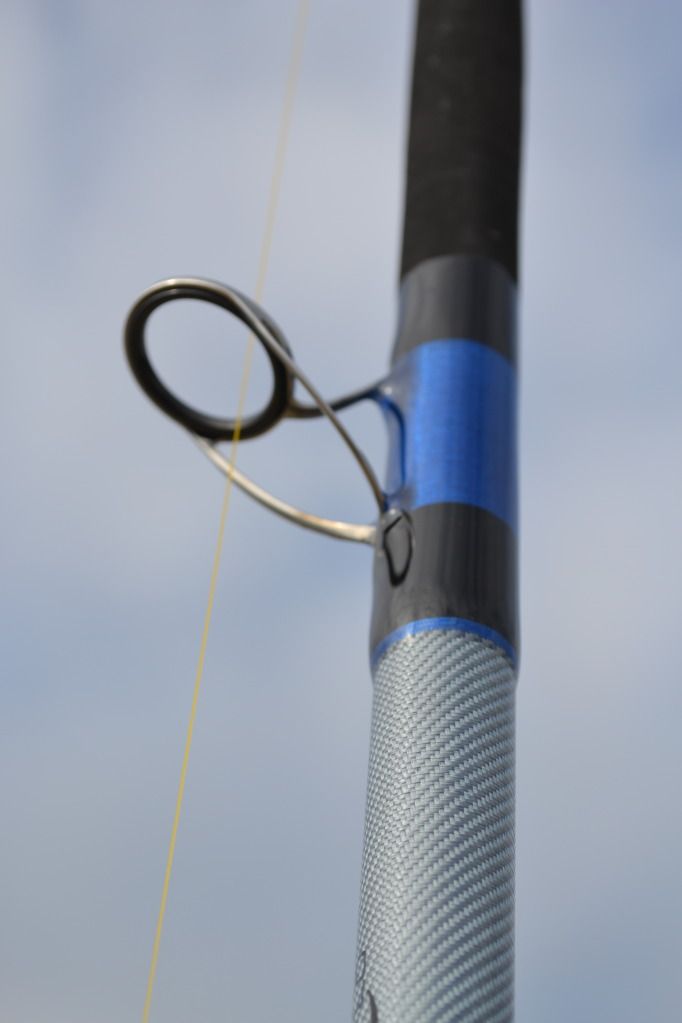 (
line still not bearing on guide even after a reasonable cast
)
I must say that the few cast that I did with the rod was a pleasure as it loads with ease and sent the 150 gram lead out well even though I was casting into a head wind , recovery is sweet and allows for a relaxed casting style off the sand with no noticable kick . The rod as mentioned is light and winding in showed that it it didn't put undue pressure on the arms for which I was gratefull as I still haven't recovered from the tendon damage that I have done to myself.
The loading of the rod indicates that it will register bites reasonable well but not as well as some would like with the tip being left at a reasonable thickness to handle the range of leads that it is rated too ( 200 gram+ bait ). I would prefere to see the rod being used with the lighter 150 gram leads as this felt sweet for me but I will give it a good run with the full range of weights and assorted baits in the coming weeks and provide feedback on that .
(
The rod in a simple holder with a 150 gram lead out - note I haven't used a grip lead with it and seen how she sits at this stage
)
Casting for this short session was done with my Akios 555 Shuttle with an additioanl N52 mag fitted and all break blocks removed , the rod looked good with this reel and felt good as well with overall weight not being a problem.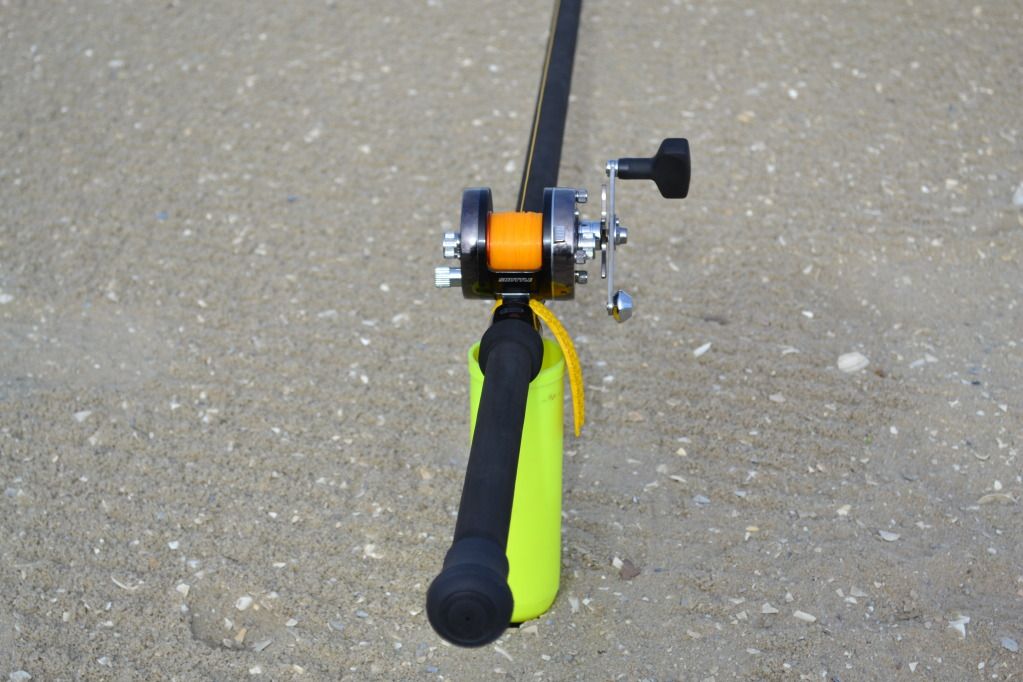 (
Akios sitting atop the CCCLD
)
(
Line level after a cast - this level still allows the line to flow unimpeded through the first stripper
)
Sad to say that i could only have a few casts on this first outing as health, weather and work wont allow me to get out again till the weekend so will just have to make do till then. I am hoping to head out on Sunday morning for a fish if the weather is reasonable and try and score a few fish on the rod but we will have to wait and see how that goes.
So as a first impresssion I am very happy with the revisit to this rod and must say that I am quite happy with the way it looks and feels with the "K" guides as well.
Just as a bit of reflection though here is a short video that I did with a mates rod a number of years ago ( 2007 ). At this time the rod was set up with the BNHG guides and matched to an Okuma reels which performed very well.
http://youtu.be/OfmjPsxE6SE
More video and reports to follow once I get my PC and video editing software sorted out.
Regards