A little Off Topic but wanted to share with you guys about a fishing trip I had yesterday! Here you go:
We discussed going down to the beach this past weekend and stay for an overnighter to actually do some shark fishing sometime. This is to be my first shark fishing trip targeting sharks. Tuesday morning Ray, Andy and myself finally make the decision to go ahead and go down. We get everything loaded in the truck, we leave SA at 6 PM and make our way to Corpus Christi. Make one last stop in Corpus for bait and finally hit the beach around 8:30 PM. Set up a small camp since we are only going to be there overnight. Start rigging up and get a couple of bait rods out to start catching bait. We make the decision to not kayak any lines because the wind was blowing pretty good and the surf was up and will just wait til the early morning time to get lines out depending on the surf. We start catching some whiting and a few hard heads in the beginning. Andy and myself decide to go ahead and rig my Daiwa 450H on a custom Breakaway HDX ( thanks Budahead ) for a casted out bait. With a back cast and half a whiting on a 16/0 circle hook just over the second bar we let it set for a LONG while. Mean time we are all still fishing long rods catching gafftops, whiting, hard heads, 1 good size skipjack, 1 small stingray, and several small pup sharks. Finally about 3 AM we were all just kind of dozing in and out of sleep in the chairs. At 4:30 AM I finally tell Ray that I am going to sleep in the truck for a bit. Not even thirty minutes later I get woken up by Ray saying "Shark, Shark, Shark, Carlos get up!" I bolt out of the truck and Andy has the rod in his hands with the reel still singing and he just got done setting the hook and he hands it over to me. The rod and reel perform great and after a 10 minute fight I finally get my 1st and biggest shark on the beach. It is a 5 foot blacktip and real FEISTY!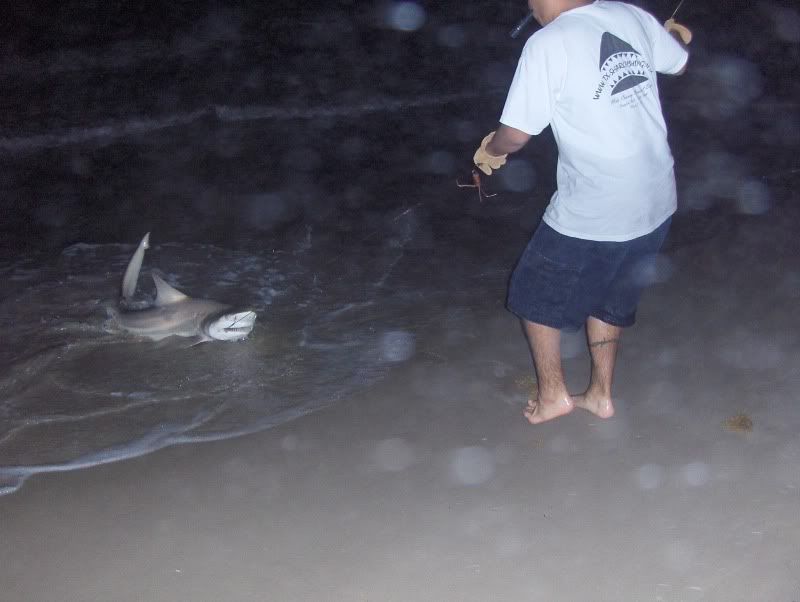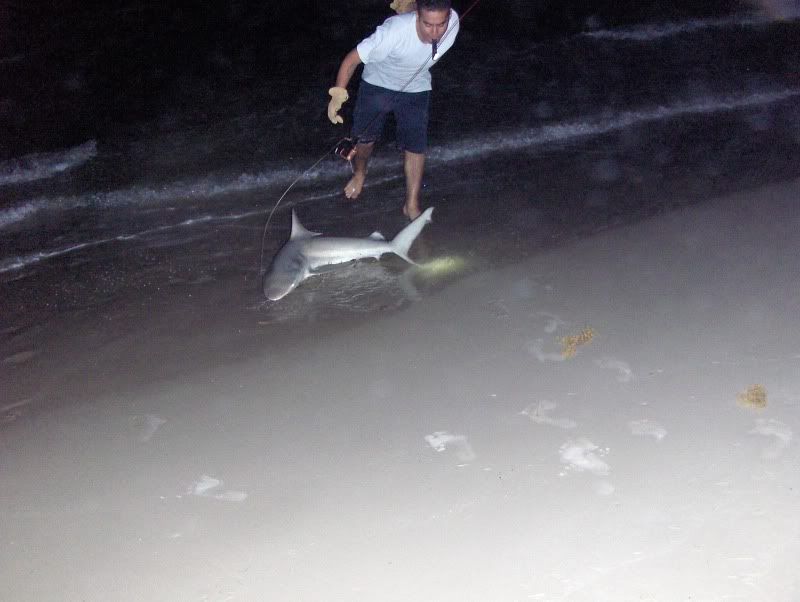 We take some quick measurements and pics and I release the FEISTY sucker back into the water.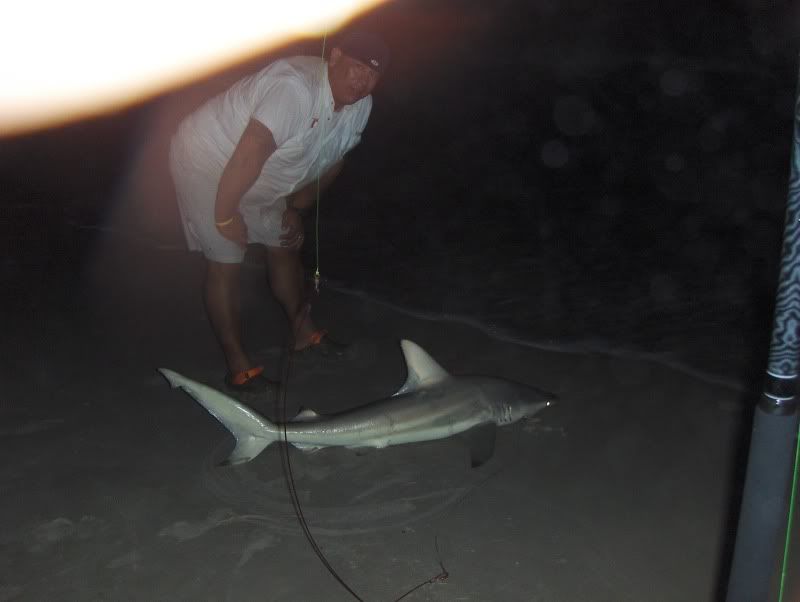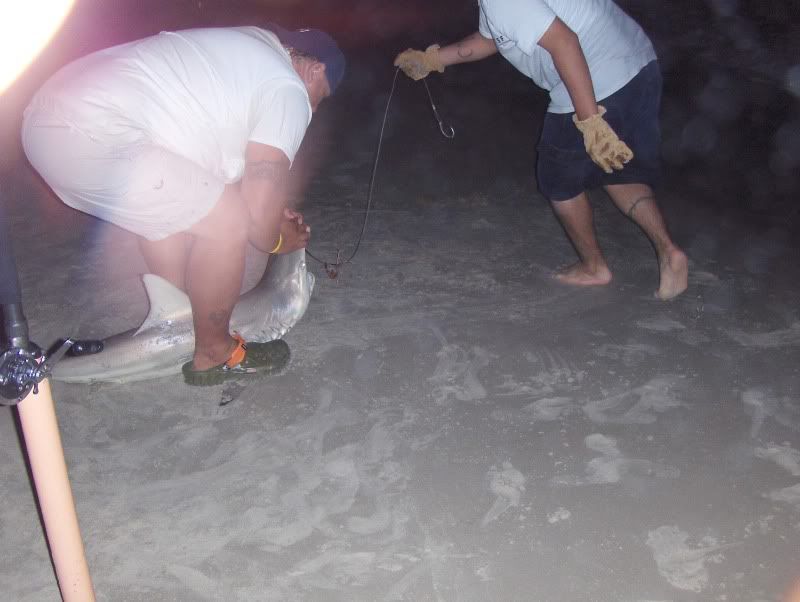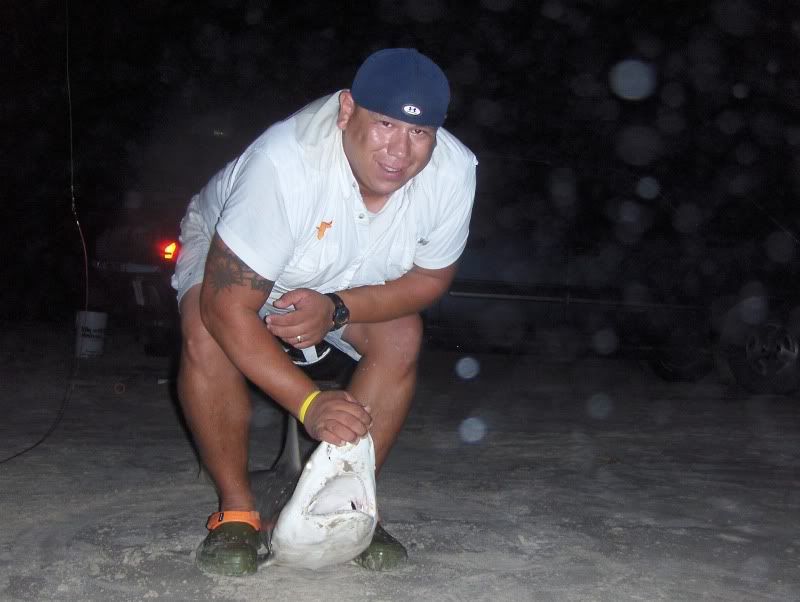 We are all definitely awake by now and just waiting on daylight to kayak some lines out. Andy and myself start rigging up the bigger rods to get them ready. 6:30 AM and it's daylight, yesssssssss! We were glad to see NO seaweed and emerald green water with 2 sets of breakers out there. Andy rigs up a whole skipjack on one of his 6/0 wides and kayaks it out 250 yards. Next 6/0 wide is rigged with a whole small stingray and kayaked out 300 yards. I rig up a whole whiting on a 18/0 circle hook on the Daiwa 900 reel and Andy kayaks it out roughly about 400 yards. We are still working the long rods for more whiting and big gafftops. By now it is almost 10 AM and Ray is still fishing, Andy and myself are just about dozed off under the canopy in the chairs again. Bam! One of Andy's 6/0 wide reels is screamin' and peeling line! I take off running and yell "Andy, Andy, Andy your rod!" I get to it first and pump the rod a good 2 times to make sure it's on. Andy gets there and I hand over his rod to him and he is hooked up.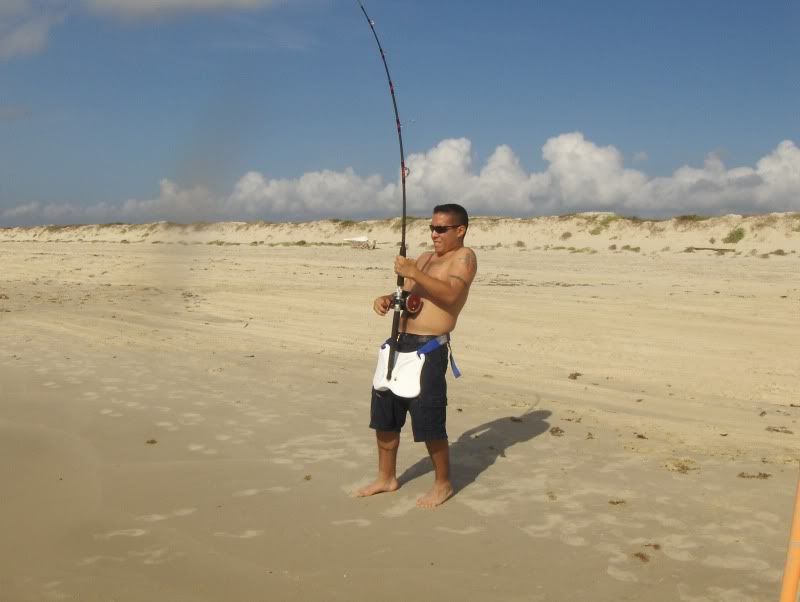 After about another 10 minute fight the shark is on the beach. I leader the shark and Ray is busy with the camera taking pictures. The shark bit on the small stingray on a 20/0 circle hook Andy gets the hook out, we get some measurements and more pics and release a 5 foot 4 inch Blacktip male shark. He is just as feisty as the one I caught earlier.
Andy decideds to go ahead and check his other rod by reeling it in to see if it has any bait on it. Andy reels in the skipjack that has plenty of bites all over it and a small pup shark on the hook. Talk about biting off more than you can chew...............................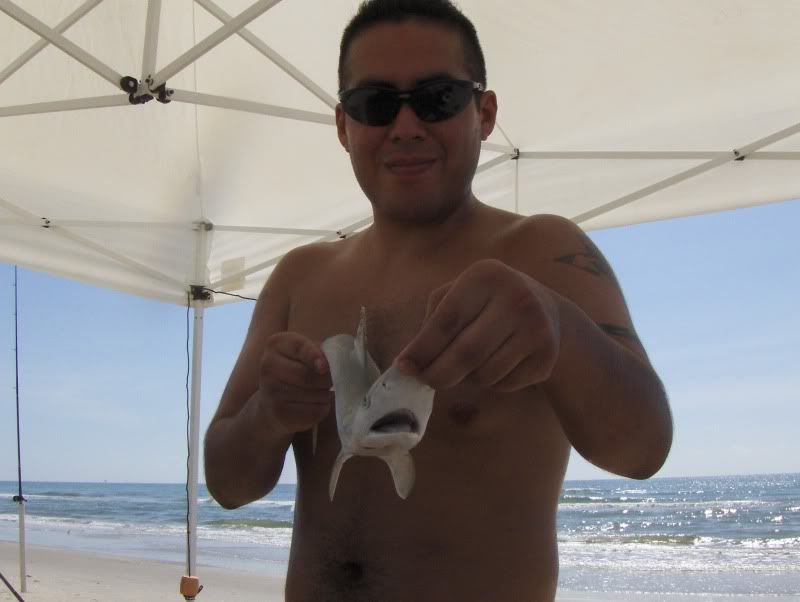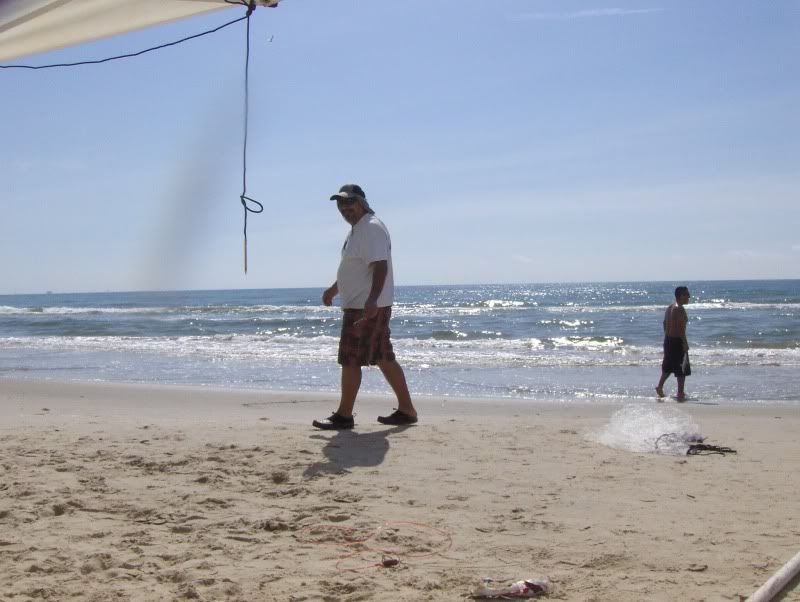 We finally sit down again and only have the Daiwa 900 out. We are sitting there talking and I tell Ray and Andy that all we need is for something good to hit the last rod out. At 10:45 AM I am looking at the rod and it bends way over and starts zinging and peeling line big time. I take off running to the rod and pick it up and pump it a couple of times and fish is on! It continues to pull line and the reel gets down to a 1/4 spool.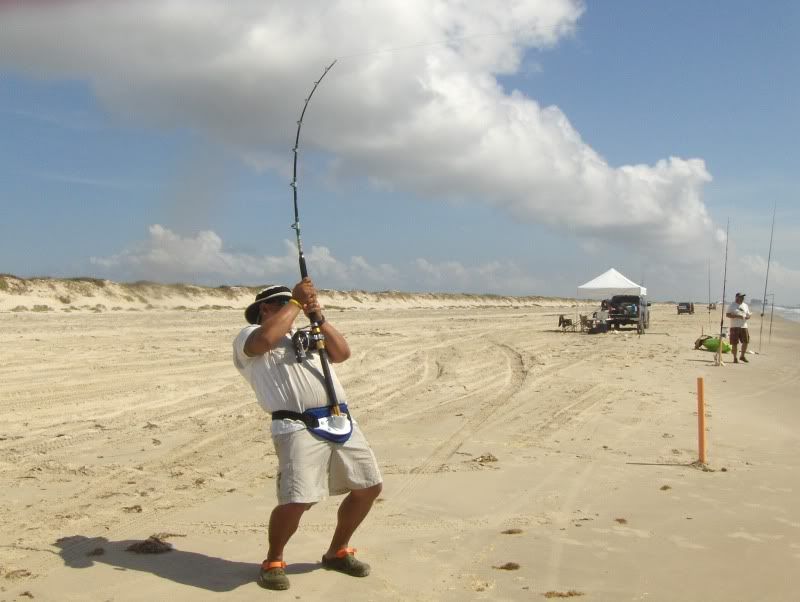 I decide to turn the drag just a 1/8th turn to tighten it and put my thumb on the side of the spool to slow it down. The fish finally stops and I start walking to the water to get some line back. I do this several times and it becomes a tug of war with whatever is on the hook. I finally get over half a spool back on the reel and the line stops moving in the water. I tell Andy and Ray that it may be a big stingray but cannot tell yet. Right in between the second and third bar I finally see a big fin out of the water and I yell "Shark, it's a shark!" I still don't know what it is but it's definitely bigger than what I caught earlier. Even when I finally get it close to the first bar it is still a tug of war back and forth. The shark made a total of 6-8 solid runs and with only using a gimbal my arms are starting to burn!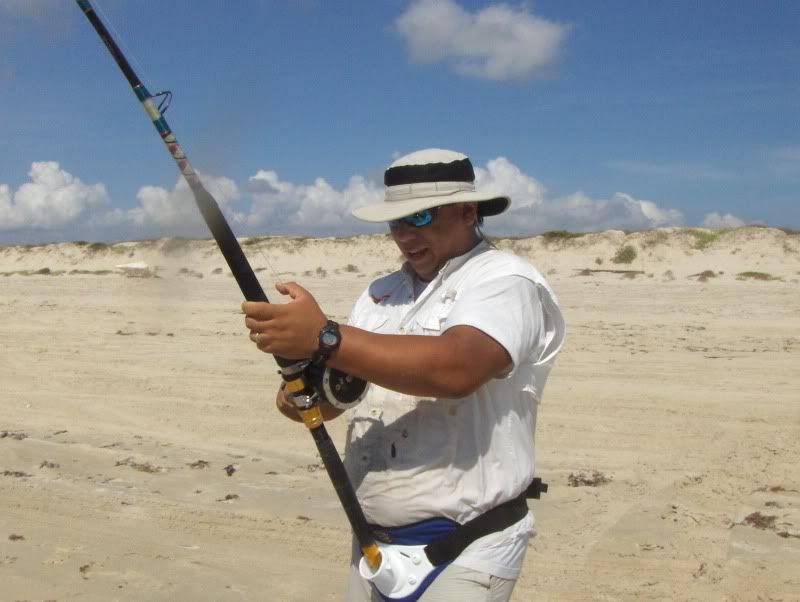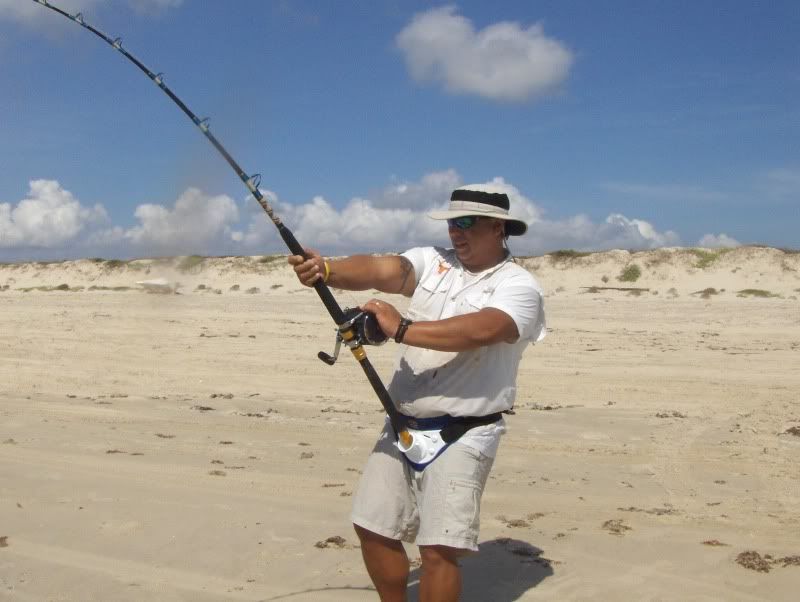 The whole time Ray is minding the other rods and reeling them in and taking pictures. While doing this Ray actually reels in a small hammerhead shark.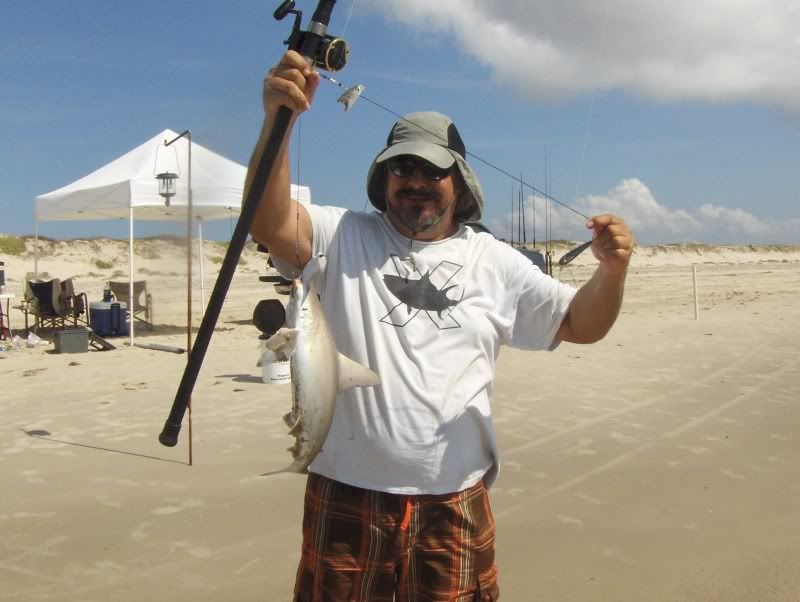 After several failed attempts to get him over the first bar and almost 1 hour later he is wore out and on shore and Andy finally is able to tail rope him and bring him on the beach. It's time to CPR and we try and do it is quickly as possible. A quick measurement and it's a 8 foot Great Hammerhead!!!!! HOLY COW!!!!! My second and biggest shark!!! We finally get it back in the water to release it and it is barely moving. After about 10 minutes it is finally revived and slowly starts to swim off! AWESOME!!!!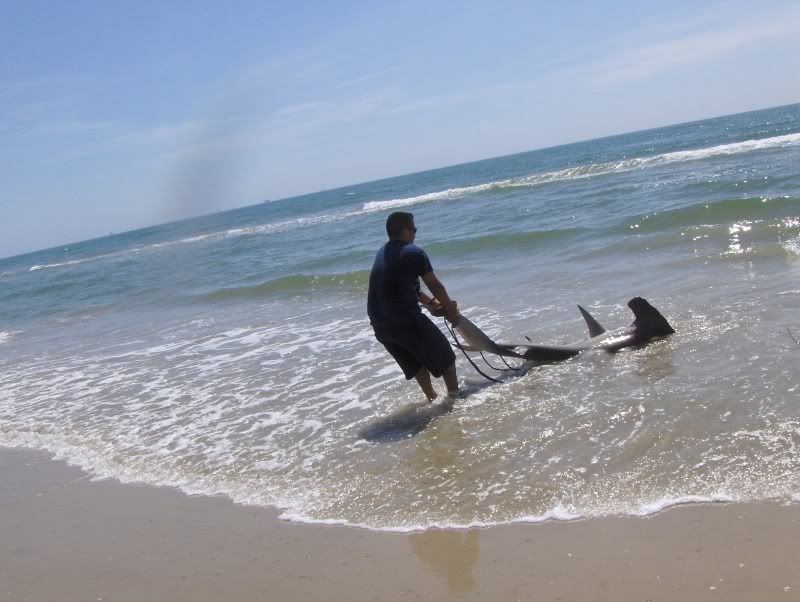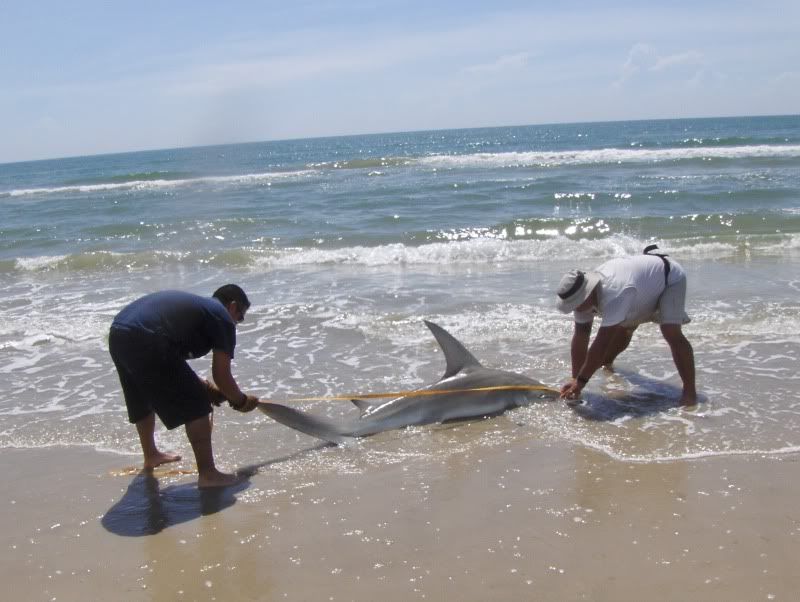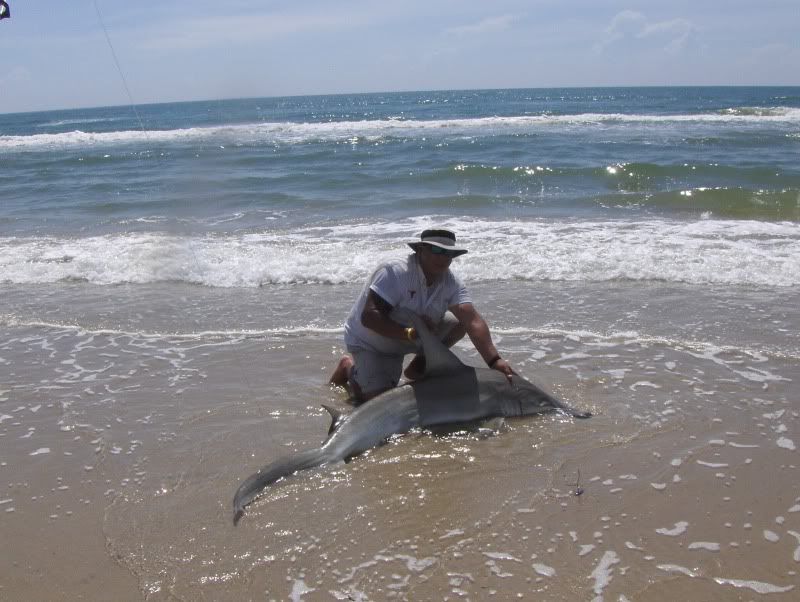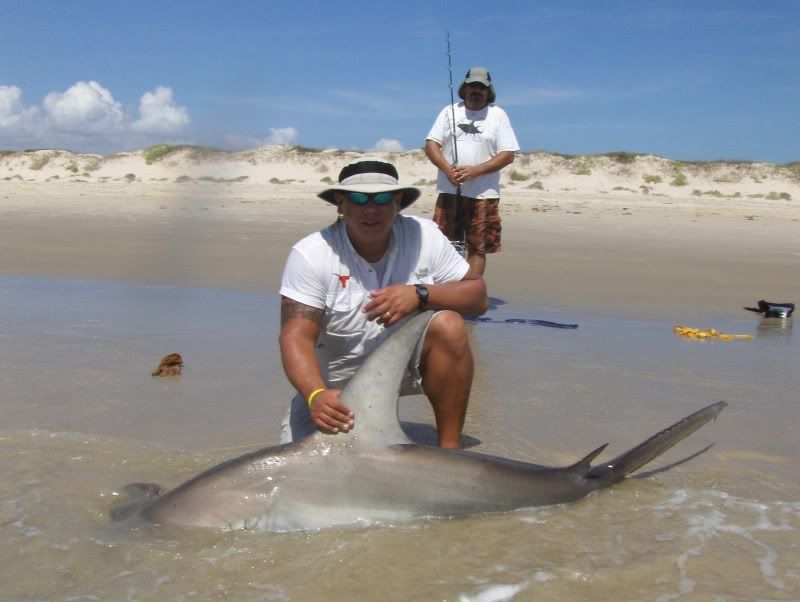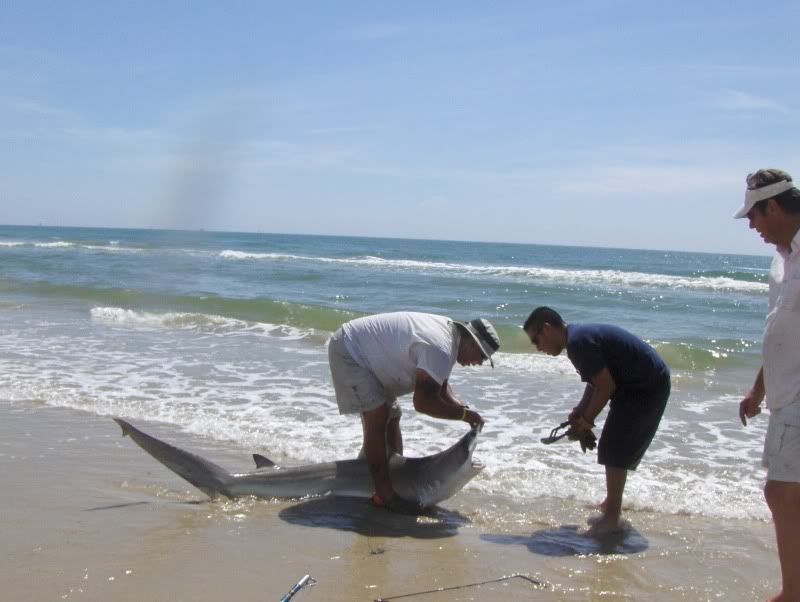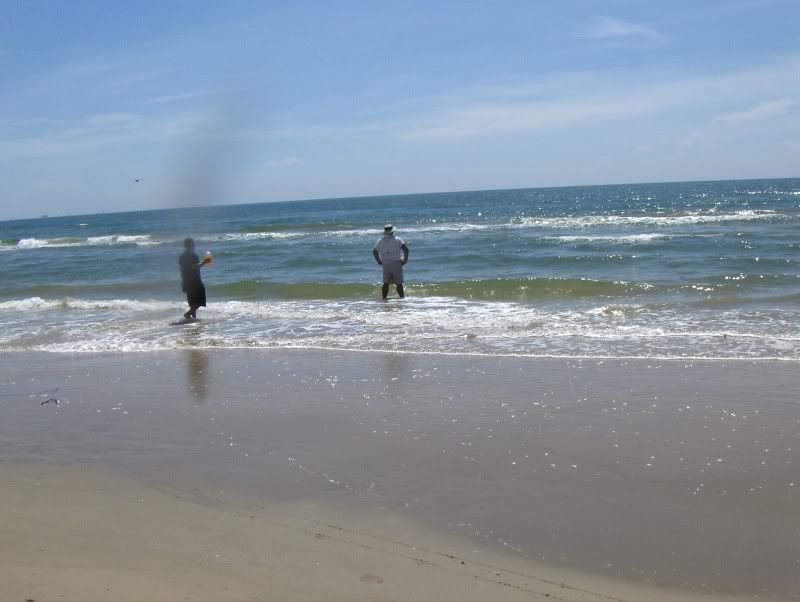 Here is a pic of the final cooler of fish that we took home with us
This was a last minute trip but an awesome one that I will never forget. A big thanks to Ray and Andy for helping out on everything. We were only 3 but we got it done! Thanks guys.
Carlos