What a top way to spend a day , getting out on the field with a few mates and working on casting trying to improve yourself as well as helping others wanting to learn.
Mick and I had decided to get down a bit earlier than originally planned as Mick had to head back to Melbourne to take out his better half and the kids out for the afternoon. As they say happy wife, happy life
I had taken Sue out the evening prior and as we had been out late she was happy to have a sleep in while I headed off to South Barwon for a session and then to go down to the beach to see if we could snag a few Salmon.
As my arm hasn't recovered properly yet I decided to play around with the baby weights being the 75 gram and 125 gram with a final smack with the diminutive 50 gram lead. Much say that you can really hit these little leads and they fly when you get them right. Mick was casting with his Century Tip Tornado Sport fitted with the reducer originally and I was using my Century Tip Tornado Low diameter Super match. Must say that this rod is a pleasure to cast the little leads with.
Here is some slow motion video from the initial session .
http://youtu.be/tOQ7OWlFMpE
I have to remember to time the little leads a bit better and they should perform even more with the TTLDSM. The light weight and slim profile allows you to really bring the rod around and the fast recovery on the tip spits the little lead out very fast. I was running my Daiwa CVZ 203 that I had modified for these light weights and it is proving quite good though there is a bit of trial and error with setting the internal mags on it. I will get this sorted in the near future when I add and adjustable side plate from my SW203.
(
The little CVZ with the level wind removed
)
Mick was happy with his casting though the conditions didn't provide for ant big distance , still it was good to hear the reels singing along.
A while later Ken made his way down, bringing the Century Tip Tornado Sport that he wants to sell to allow him to get one of the TTLDSM's , he finds the Sport a bit heavier than he likes for his fishing.
Ken started with the Sport and then later swapped over to my LDSM with me switching to my Prototype TTSS which is nice an light yet still has plenty of power to get the leads flying. I was running this with my 7HT Mag and casting the 125 gram.
I think that Ken is happy with the LDSM as we also took it down the beach after the casting so that he could see how she performed on the surf with the sinkers sizes that he likes to use as well as matching it to his Penn.
Corey was the final member of the group to make it down after dropping off the kids ( Keeping the wife Happy
) , he was initially using his TTLDSM 12' with the 7HT and casting 150 gram leads before then stepping up to see how the sport compared with the little rod.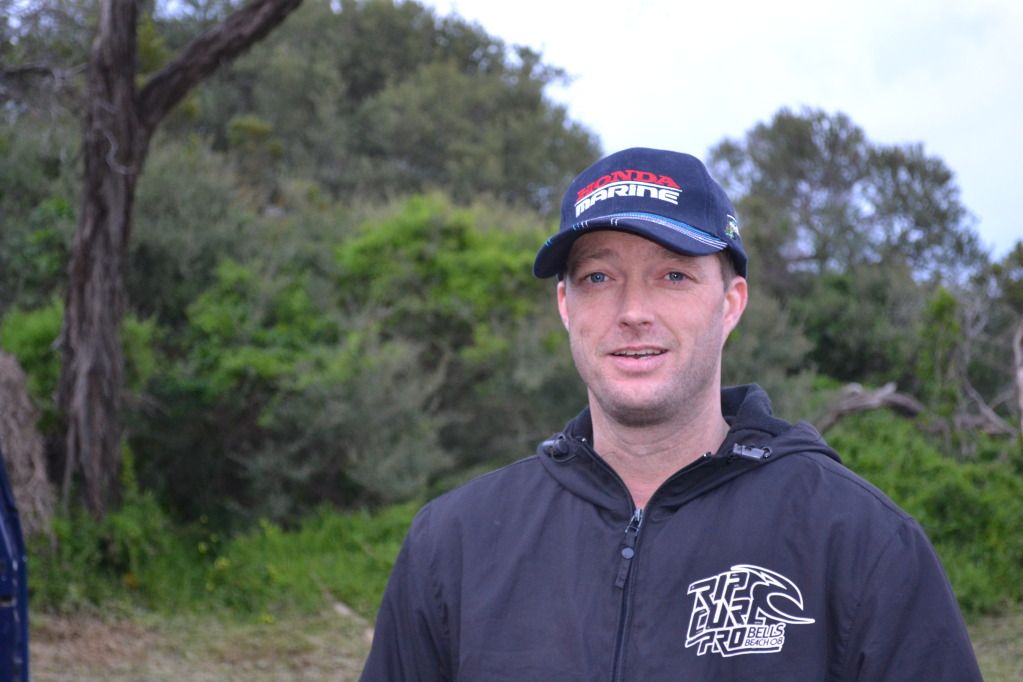 (
Corey a new up and coming caster , who by the way is a top distance fly caster
)
Corey's casting is coming along nicely
so we should see some good distances from this young man at our next casting comp in October , we may even organise one a bit earlier as I am sure that Mick also wants to see how the distances are under comp conditions.
Here's the video footage from the session.
http://youtu.be/37mEbgqV7dg
Here are a few of the photos from the beach session later on , though I have to say that we didn't score a hit so it'll have to wait till next weekend or possibly Thursday evening before we can try and even up the score a bit.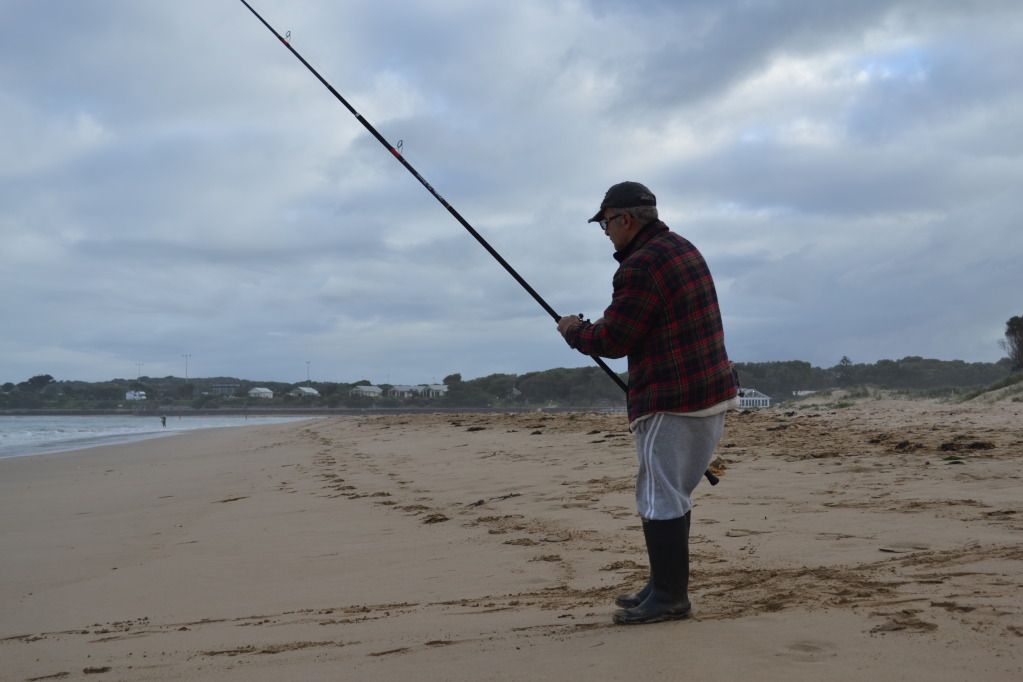 (
Ken trying out the TTLDSM
)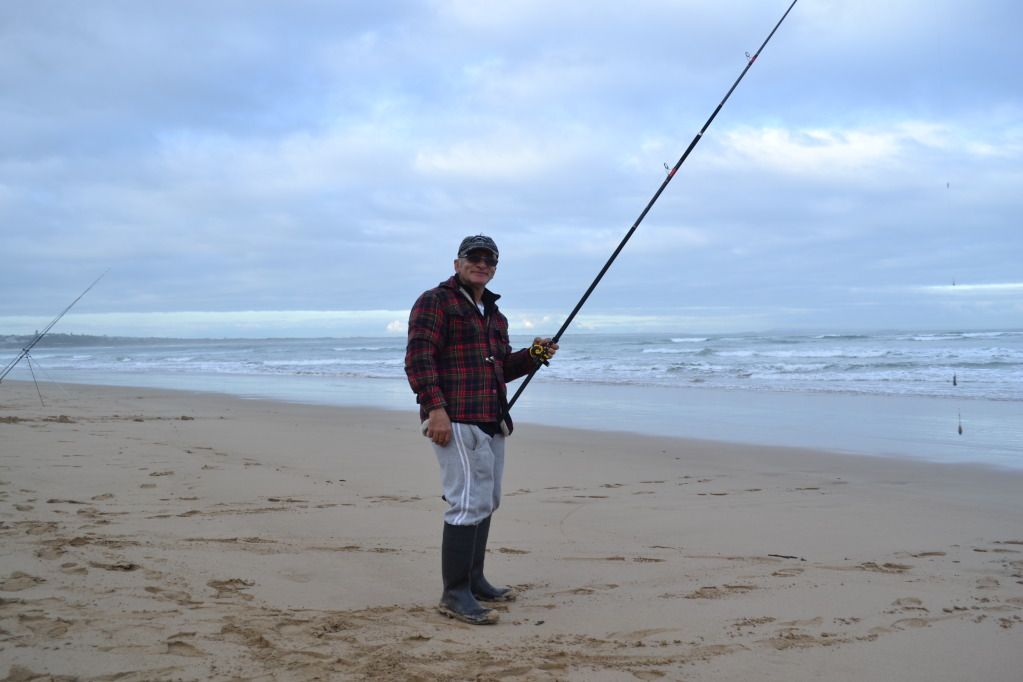 (
Ken with a smile on his face
)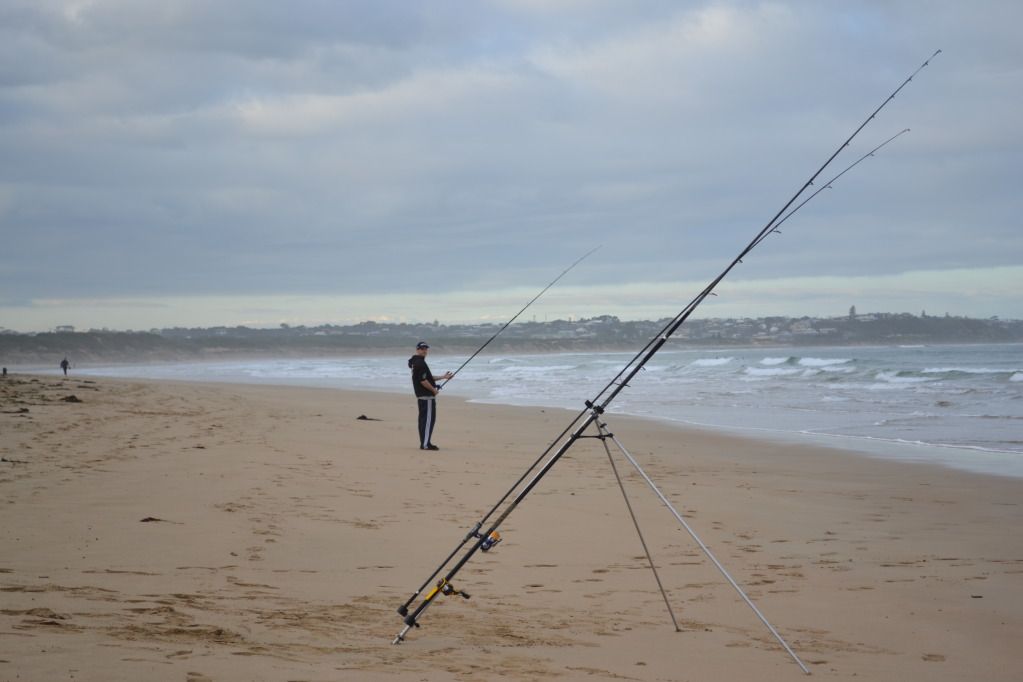 (
Conditions felt good though the fish didn't agree
)
Till then